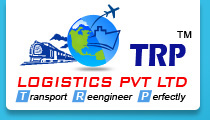 THE COMPANY
TRP Logisitcs, provides world class logistics services – packing, clearing, forwarding, and shipping. Boasting a fleet of more than 60 own and 150 rented vehicles, including trucks, trailers, LCVs and a well connected warehouse network in India, TRP serves Supply Chain companies, Warehouses and Special Project Cargo transportation firms.
THE CHALLENGE
To maintain an efficient process flow and inventory management system, TRP required start to end platform with centralized data, giving power to the end customer to track vehicles and consignments, payments, invoicing and all related actions.
THE PLATFORM
iSolve's iNavigator,  is a comprehensive Container Management Platform that automates and manages all import and export processes, seamlessly.
Key Features
Monitors and track CFS operations and billing
Monitors container & cargo movement between CFS and Port
Hands on Customer login to monitor container & cargo and payment details individually
An online, transparent, Container Management System with revenue insights
With iNavigator, TRP has achieved a 30% reduction and operational costs and customer satisfaction is at a high 92%.
Transformation, achieved!